Ford Blue Advantage: Confidence at Every Turn
Experience the benefits of Ford Blue Advantage! Each Ford Blue Advantage vehicle features a limited warranty, multi-point inspection, 24/7 roadside assistance, and FordPass™ Rewards Points.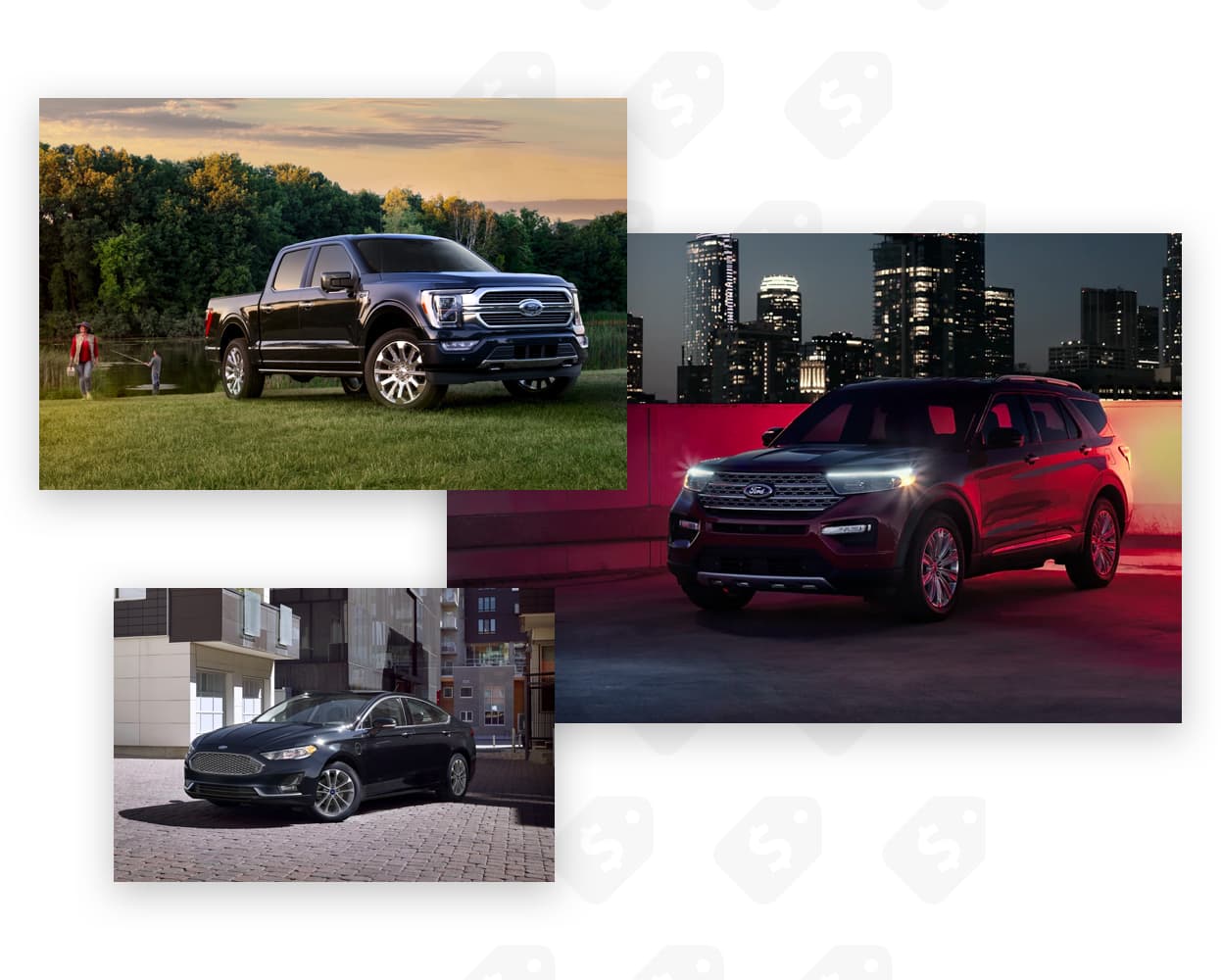 Take Advantage of This Month's Current Offers
Every month Ford releases incredible cash-back offers and special financing rates along with discounts featured in other special programs.
We're Here For You
Haldeman Ford of Allentown always puts customers first!
Don't take our word for it: Read our reviews and see what everyone is saying.
I purchased a 2017 Jeep Wrangler JKU Rubicon from Bill a few weeks ago. The Jeep was in pristine condition, very well kept and listed at a very reasonable price considering the current automotive climate. During the test drive we encountered a front, passenger/side brake caliper was locking up. The service team immediately pull the Jeep in for service, and replaced the front hardware on both sides. We also found a crack in the windshield the day after we brought it home, and I called to inform the service team of our findings. A day later I received a call from Safelite Auto Glass, and Haldeman Ford/Lincoln replaced the glass with a OE Mopar windshield - no questions asked, again. I worked with Wil and Bill on the deal, and these guys are straight shooters that know how to treat a customer. I'm not a Ford or Lincoln guy, but they treated me like I was purchasing a new car from their brand. I highly recommend anyone looking for a Ford, Lincoln, or any car listed on their Allentown, PA dealer lot - you'll be treated respectfully and fairly, that much I can guarantee.
Cory H and Jaime are really nice, pleasant people. They were quick to find the right choices for my needs, and gave me very straight answers and no run around. My trade-in was a mess, with a large balance and needing extensive repairs, but somehow Jaime was able to roll it in and get my new payments down to a reasonable rate. I am grateful and happy with my new Ford Escape and with the overall experience.
The Hadleman Allentown team from my first greeting in July 2020 to end of my personal purchase experience, for my family; rang true too the sound of satisfaction. I look forward with a confidence when an issue arises, to be handled happily, concluding with a positive outcome.
Nothing to complain about...when I called directly me when the best time was to bring my car in for oil/filter change and I was hardly there before my car was finished. This was great because I had lots of running around to do that day and it wasn't wasted waiting for my car. Happy!
Service tech, Victor, helped to diagnose vehicle over the phone prior to making any sort of appointment to have car looked at. Did an engine coolant and transmission flush,(very reasonable price with coupon), which is greatly improving torque converter fluttering issue. Thanks much!
Wonderful experience working with Mike Klement today as well as with Richie (technician) ! All my requests addressed; Car ready when indicated ! God bless all the staff at Haldeman Ford Lincoln !!! Sincerely, Ciro R. Trotta Allentown, Pa. July 16, 2019
I have had bad luck with flat tires lately, but Service has always gotten me in promptly, fixed my car expediently, and facilitated use of a loaner vehicle when needed. Mike Klement is a solid professional; he has taken exceptional care of me. Pete and Victor are always great to see as well.
I have been taking my 2012 Ford Focus to Haldeman since I purchased the vehicle. I feel the technicians really know their stuff, and the service advisers are very helpful on giving you a (truthful) heads up on any future needs. Which in my mind, is everything. I have seen too many garages really gouge the customer for unnecessary service.
Mike explained everything to me in a clear and professional manner. The work was done quickly and properly. Could not be happier. Will recommend highly to everyone.
My Lincoln was in for routine periodic service. That service was done quickly and efficiently. Friendly staff and a a complimentary car wash was appreciated also.
My car recently needed regular maintenance. They picked up and delivered, including dropping off a beautiful loaner car. Staff is very friendly and courteous. Highly recommend!
My car went in to have the AC checked because it wasn't cooling. A serious 4-wheel drive problem was discovered that required immediate attention, as well as a leak in the AC line. Although this was thrown on the service department without much notice, and they were very busy, they knew I am taking the car for a long trip soon, and got it done within 2 days. In the meantime, I had a new Escape to use while my car was in the shop. I couldn't have been more pleased.
I love the multipoint inspection at no charge to me. They are very accommodating when I need to schedule my Lincoln for service, and I especially appreciate the complimentary car wash.
Airbag recall was completed in same day (instead of the planned 2-days) -- nice! Opportunities for improvement: - It would be nice if someone explained work completed and charges on bill. - Coupon for "The Works" could/should list a price or discount
I purchased my Lincoln MKX in 2012 and have been very satisfied in the quality and service that I have received since that time...just keep up the good work that you have been doing.
The employees of Haldeman Ford Dealership of Allentown, PA provide excellent service from the call center to the technicians and mechanics. The technicians provide information on the status of your service and provide truthful and honest diagnoses on your vehicle! I purchased my car at a different dealership (sorry) who did not measure up to your dealership; hence, why I switched when you were recommended to me by one of my friends. I have never regretted this decision!
Always great service and attention to detail. Friendly with a focus on "you" the client. Garage equipped with parts and personnel competent to do the job.
Always a great experience dealing with Haldeman Ford/Lincoln, from purchase to service. I just recently recommended them to a stranger who stopped me to ask how I like my MKX.
Our car was towed in with 2 flat tires, with little notice. It was taken care of in less than a day, at a great price! We have been buying and servicing our cars there for many years.
Great overall experience from the complimentary concierge to the service (oil change, inspection and wiper blades) all done right first time, to the complimentary car wash. Thanks all!
We have been getting our car serviced here since we bought it and were very happy with it. We will come back to purchase our next car because of the service dept.
Excellent job done by Michael Klement and Richie (respectively), on our 1991 Grand marquis !!! Great Job ! God bless all of the staff and personnel at Haldeman Ford - Lincoln !!! Sincerely, Ciro
I made the appointment for the day I wanted and time I wanted with ease. When asked if I waited for my vehicle how long it would take, they told me frankly 1.5 hours....it was a little less then that but appreciated the honesty! Waiting room was great....and dealing with service even nicer!
Great Job done on our 2009 Grand Marquis. Special thanks for this Service Visit to Michael Klement and our technician that day (Richie). Sincerely, Ciro R. Trotta
Friendly staff service completed on time as promised always happy with the service that I received from Haldeman Ford. And answer questions that you may have.

Welcome to Haldeman Ford of Allentown
Welcome to Haldeman Ford of Allentown! Our dealership is located on 2443 Lehigh Street, Allentown. Haldeman Ford of Allentown is just minutes away from all Lehigh Valley communities, including Bethlehem, Easton, Nazareth, Whitehall, and is a short drive from Phillipsburg, N.J. and Bucks County. Haldeman Ford of Allentown is the premier Ford and used car dealership serving Lehigh, Northampton, Berks, and Bucks Counties in Pennsylvania and Huntingdon County in New Jersey.
Contact Us
Haldeman Ford of Allentown
2443 Lehigh Street
Allentown, PA 18103
Sales:
877-837-2658
Service:
877-830-3143
Parts:
877-331-6137
Directions