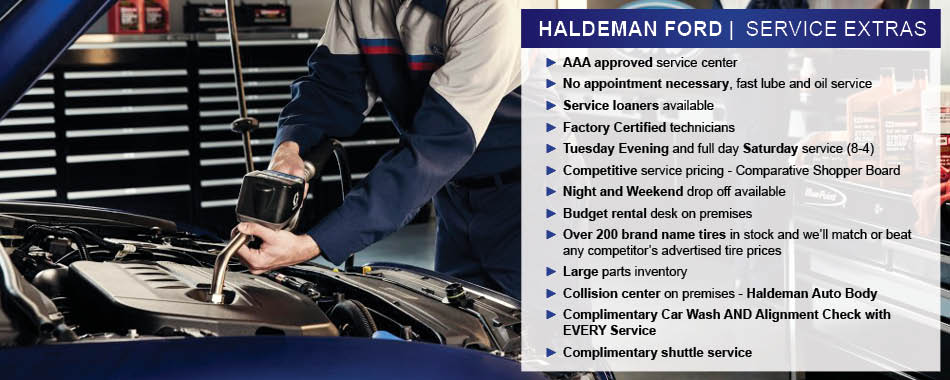 Get Your Ford Serviced at Haldeman Ford Lincoln In Allentown
If you live in the Bethlehem PA area and have a Ford vehicle, our service department at Haldeman Ford Lincoln near Emmaus, PA, is glad to provide regular service for your vehicle. Whether you bring your vehicle in for routine or scheduled maintenance or your Ford needs repairs, we are ready to get to work.
Reasons to Get Your Ford Serviced at Haldeman Ford Lincoln
Our service team at our Ford dealership is well educated and qualified to provide routine and in-depth service to Ford vehicles. Our team is well-trained and pride themselves on great customer service.
Types of Service Available Near Breinigsville PA
There are many different kinds of services that you can get at our dealership for your Ford car or truck. We recommend looking at your vehicle's service manual to get a good idea of when to get specific services. Of course, we will also repair your vehicle when needed. Some of these routine maintenance and repair issues include:
Tires - We recommend having retires checked on a seasonal basis. If you do not check the tires yourself, bring your vehicle to our service station to ensure that your tires have the right amount of air and tread.
Oil - Oil changes are something our service staff does every day. So if your Ford needs an oil change or you just want to have it checked, come by and talk to our staff today.
Other Fluids - When you bring your Ford in to get the oil checked, have them check all of your other fluids as well. It doesn't take that long, and we can let you know if any of them need to be changed. Then, we will top off your fluids and make sure that you can go safely on your way.
Brakes - If you are driving your Ford down the road, and you hear squealing coming from your brakes, stop by our service station at our dealership to have our staff check on them.
Schedule Your Service Appointment At Haldeman Ford Lincoln
If you're looking for car service near Macungie, PA, we'd love to help you however we can. Contact our service center to schedule an appointment, and don't forget to check out our new Ford inventory and parts center as well.
Check Hours Here.
AAA APPROVED AUTO REPAIR CENTER
Haldeman Ford is a AAA approved service station. Why? Because we have met all of the stringent standards necessary to earn the certification.
At Haldeman Ford we want you to know who is working on your vehicle. We have Ford Master Certified technicians and several employees who have been working here for over 25 years. At Haldeman you only get the highest level of expertise and professionalism working on your vehicle and every time you come in for service you get the same quality technicians working on your vehicle. We strive to build relationships with our customers and genuinely care about them and their vehicles. Come to our dealership and experience for yourself why we are the area's #1 service department!
Service Layout by BitMoto
---